Ever since its founding in 1965, the GEO Feinmechanik GmbH has been a leader in Germany in the development, manufacture, and marketing of laser measuring devices for a wide range of applications.
The perfection of our products in terms of handling, functionality, and quality is widely recognized and is the result of many years of research and development.
To this day, all our products are designed, manufactured, and maintained in Germany.
Our product portfolio comprises devices well established in the construction industry, such as pipe lasers, rotary lasers, and inclination lasers. It also includes devices for more specialized tasks, such as plumbing lasers for tower and shaft construction, drifting lasers, and specialized equipment for tunneling and pipe jacking (micro-tunneling). We also offer precision lasers for a variety of measuring and surveying tasks, especially in industrial applications. Highly accurate precision receivers, providing a resolution of up to 1/100mm, are part of our product range as well, as are specialized tracking receivers, capable of fixing and controlling the axes of laser planes via radio transmission.
Since December 2015, we have been carrying in our company name the product we are best known for. That is why today we are GEO-Laser GmbH.
One of the first plumb lasers worldwide. Thanks to its attachable pentaprism it could already be used as a leveling laser as well.
The first tunneling laser, LH132, followed soon thereafter.
One of the first pipe lasers in the world is introduced to an expert audience. Grade adjustment was still performed mechanically, via fine adjustment drive – a real revolution in the execution of construction work.
A breakthrough innovation in canal construction. The TL-77A is the first pipe laser with fully automatic leveling capability. Its astonishingly small dimensions enable work even in small cross-sections.
The next chapter in the success story of the TL-77A and the birth of the rotary laser.
Thanks to the rotor attachment TL-99AR, the underground construction laser became a rotary laser capable of creating both vertical and horizontal planes of light.
LL-/AL-20/-22A RL-30/-32A
---
1981
The first plumb laser capable of automatic self-leveling via two-axes marked a technological breakthrough.
Almost at the same time, our rotary lasers of the RL-30A series are drawing the market's attention. They are the first dual-grade lasers capable of automatic leveling and electronic percentage adjustment.
These devices are the result of the consistent refinement of our automatically self-leveling rotary lasers. Thanks to their ability to create both vertical and horizontal laser planes, they become a huge sales hit.
In combination with the specially designed underground construction laser TL-21A, the first machine control enables automatic control of the pipe jacking process. A new era in pipe laying begins.
The surround receiver GEO-1104 is legendary to this day. In combination with the control center GEO-2102, it now made possible for the first time the automated control of construction machinery.
This is the name of our first video measuring system, specially designed for pilot pipe jacking. In combination with an active LED target, this system enables precise control of the pilot pipe's grade and direction.
The first laser receiver with LCD display and 0,1mm resolution, the 1107 can handle a wide range of measuring tasks.

The evolution of the GEO-3A has lead to the first laser system whose light plane is controlled and fixed in its direction by a receiver. Optionally, both axes could be controlled as well. This marked the birth of today's locking receiver.
LL-/KL-/VL-/UL-/IL-10… -30
---
1988
The next generation is able to excel especially due its improved mechanics, now enabling the use of perfectly round housings. This way, the pipe laser receives a shape which is ideally suited to its environment. These new pipe jacking lasers allow for automatic direction adjustment and fixing via a special receiver.
This technology, a prerequisite for automatic traversing, is available exclusively at GEO: The automatic tripod AD-12 keeps measuring devices leveled at all times even if the position is shifting. It has become an indispensable tool in tunnel construction, automatic building monitoring, and long-term geomorphological studies.
Highly popular to this day and particularly in measurement labs in constant use, the LE-10 excels due to its robustness, its precision, and its 0,1 mm resolution.
Used and appreciated around the world due to its robustness and perfect workmanship, this series with its characteristic look has acquired an almost legendary reputation.
In combination with the 50 generation of lasers, the laser receiver LE-50 now makes possible for the first time cordless locking of a laser axis above a fixed point on the ground. From now on, communication is performed on infrared basis.
The first receiver with LCD and 1 mm display has no moving parts and enables ad hoc measurements without waiting time.
UL-/NL-/VL-/RL-80
---
2004/2005
Decades of experience in the development and production of precise and robust laser systems come together in this new and innovative generation of devices. One of their signature features is their continuous and round design.
With its proven track record and its use in many areas, the FE-50 is now equipped with a radio module to establish a connection with a new generation of lasers.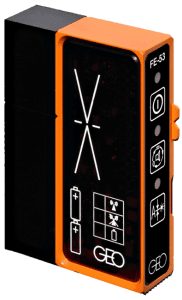 More powerful lithium ion technology and radio modules for select devices take these reliable instruments, which are used around the world, to the next level.
Continuous improvement of our popular LE-10 creates a laser receiver with an unrivaled resolution of up to 1/100 mm. This extraordinary precision, unprecedented at the time, opens up whole new areas of application, particularly in the industrial context. To this day, these receivers have been the benchmark in their class.